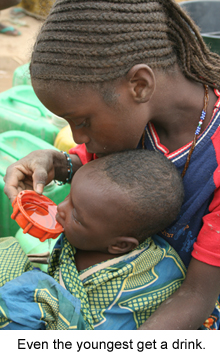 Kijigari Montessori Well of Love, 2010
Take Action to Save Lives by Joining our Heroes of Compassion!
Become a Hero of Compassion! Rally your school to join the Amman Imman Crusade!
write to
debbie@ammanimman.org
for more information
Match the money raised by a Wells of Love School. Challenge a school to raise funds and match your pledged donation.
click here to see a list of schools you can support
Support Anya as she runs to save lives in memory of her father!
October 31, 2010: Anya runs for water in the Marine Corps Marathon
click here to go to Anya's website

Five Oaks Academy, 2010
"Water is here, water is there;
If you can't reach it, I will reach it for you.
If you can't seek it, I will seek it for you.
At last the water you've been trying to get is here for you."
Seventh grade Hero of Compassion, Ayisha
Dear Friends of the Azawak,
This installment, as well as the next I'll be sending is dedicated to the amazing students across the world that have raised over $100,000 since 2006 to bring water to their thirsty friends in the Azawak. These students, moved to join our Wells of Love program through love, compassion, and a deep understanding for humanity, are saving lives among the world's most vulnerable. David, a dedicated eighth-grade Hero of Compassion iterates, "You may work a mile, and you can have life, or walk a mile and give life." This simple yet intrinsically powerful phrase encompasses the philosophy that motivates our Heroes of Compassion.
With our Wells of Love program that heralds our army of Heroes to action, Amman Imman does more than simply raise money for the Azawak. As Debbie, Wells of Love Director says, "The potential here is greater than raising money. We are raising kids. We are raising kids to understand that their effort impacts the world, that what they do, even if they can do only a little, goes a long way… But it doesn't end there...we are also giving a chance for children in the Azawak to reach their potential, and their dreams."
What is a Hero of Compassion?
Eighth grader, Sebastian, defines himself and fellow students "Kind of like a super hero, super heroes use their super human strength to save the lives of ordinary people. Heroes of Compassion give their best to help people, and by helping they discover their own super power."
Today, our Heroes of Compassion, by successfully building their Montessori Well of Love in the village of Kijigari, have proven that children of all ages can make the seemingly impossible real when they unite their compassion and ideals with action.
Who are our Heroes of Compassion?
With over 60 schools partnering with Amman Imman over the last four years, Amman Imman's Wells of Love program has developed an army of Heroes of Compassion across the world. Upon hearing about the thirsty yet beautiful children of the Azawak, students across North America, the Caribbean, Europe and Oceania have raised awareness and funds for their friends in Africa. With thousands and thousands of students uniting hand in hand to bring water, hope and life to the Azawak, I wouldn't even know how to begin recognizing and thanking each and every one of them individually as they should be. Please visit our schools' blog here to read about all our Wells of Love schools
and read the inspiring stories of the students, parents, teachers, and administrators that have provided an invaluable contribution and made a significant impact in the Azawak.
A Few Examples of Wells of Love Schools
In many schools, Amman Imman has been an integral part of the school culture since 2006. The most obvious example is the Oneness-Family School. As spear header of the Wells of Love movement, it was the first Montessori school to make a long-lasting commitment as Amman Imman's partner. Still today, Oneness holds year-round Amman Imman activities; from the craft making Hand in Hand project in the Fall to Amman-a-thons and A Walk for Water in the spring. Oneness Heroes of Compassion have raised over $20,000 since they joined the Amman Imman crusade. Far from being alone, Oneness has been joined by the Boyd, Barrie, Hershey, and Aidan Montessori Schools that have also chosen to make Amman Imman an essential component of their school curriculum over the past couple of years. The united efforts of these Wells of Love schools have raised over $40,000.
Small schools like the Montessori School of Maryknoll, have also been a key component of the Wells of Love movement. Involved since 2007, these young students have consistently raised a couple of hundred dollars through their bake and plant sales. Schools like Palm Harbor Montessori, also involved since 2007 have raised $3,700 in just a month by collecting change in water bottles. This year again they have committed to collecting change for Amman Imman over the entire school year.
Click here to see the list of all the schools who have helped!
Some of the Most Committed Began through the Passion of One Individual
Some of our most committed schools have partnered with Amman Imman thanks to the passionate initiation of one student. For example, Cornerspring Montessori first enlisted as a Wells of Love school thanks to eight-year old Odin who shared the story of the Azawak after viewing our "Water Scarcity in the Azawak" video on the internet. Dedicated Hero of Compassion, Sophie, rallied the Madeira School to join this year's Walk for Water at Lake Frank. East Catholic High School raised close to $15,000 after high school student, Gabby, presented the plight of the people of the Azawak to her classmates.
And then of course, there have been schools that have raised thousands of dollars thanks to the initiation of one committed parent or teacher. Teacher Bonnie from Five Oaks Academy rallied her entire school to conduct fundraisers year round, and with an Amman-a-thon as a finale, raised over $4,000 in just one year from her small school. Rodney has been leading the Boyd School's seven campuses to conduct yearly Walks for Water. Sara, Bob and Cathy at the Barrie School have supported a myriad of student fundraising activities from bake sales to Walk for Waters to sports competitions, raising over $10,000 since 2007. Parent Elicia brought the Montessori School of Louisville together to contribute $5,000 of the school's auction to Amman Imman. Dedicated teachers like Nicole and Christine have taken Amman Imman to their new schools, Sunset Hills Montessori and Scattergood Friends School. They have already started cultivating an entire new crop of Heroes of Compassion. These are only a few examples of many whom singlehandedly roused the compassion and help of entire school communities.
Stay tuned for my next installment where I will tell you more how our Heroes of Compassion have raised over $100,000 in just a couple of years.
Yours for the children of the Azawak,
Ariane
For a list of schools that you can support, click here.