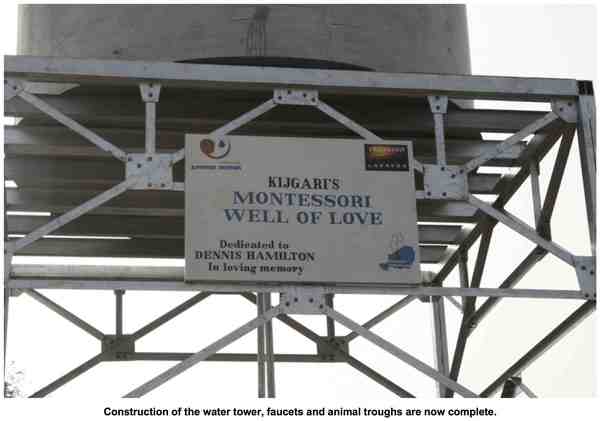 Dear Friends of the Azawak,
This Spring our Heroes of Compassion in the USA and France proved mightier than a world recession, and more determined than the plight of
hunger and drought facing the Sahel.
As students dutifully walked, dribbled basket balls, hoola-hooped, jumped rope, and jumping jacked in A Walk for Water and Amman-a-thon events, our team in Niger launched the construction of the water tower, faucets, and troughs in Kijigari. With this year's drought in Niger proving more devastating than previous years, and families relying on eating dirt to fill empty bellies, the gift of water, hope, and life arrived in the nick of time for the Kijigari community.
Every step, dribble, and jump established the foundation for a new brick or piece of equipment, as slowly the long awaited structure of life rose above the parched marsh and thorn-covered acacia trees, ready to bear life giving water. By the end of June, the miraculous
day happened when newly elected Zalika, of the Kijigari Water Management Committee proudly opened the first operational water faucet.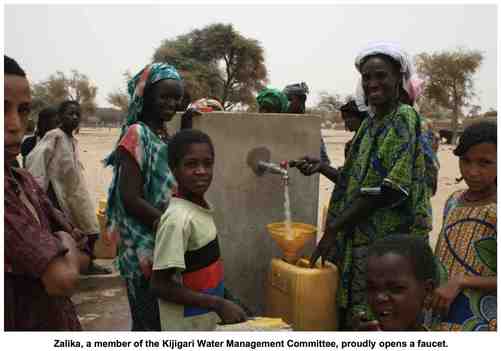 As quoted by Adam, the president of the Water Management Committee: "Amman Imman and Heroes of Compassion worldwide made the unbelievable real". Student's untiring efforts worked magic, as they raised over $22,000 in just a few months tobuild their Montessori Well of Love.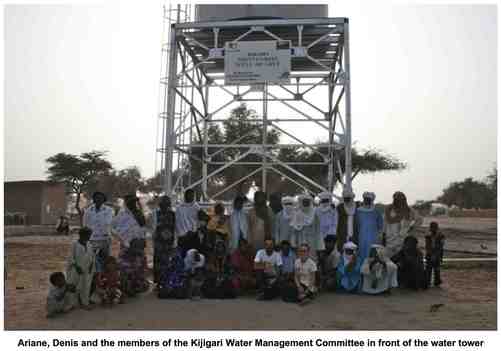 Since January, contributions from people like you, our dedicated supporters of the Azawak, along with the fundraising efforts of Heroes Compassion, have reached $38,000. However, Amman Imman must still raise $16,000 to pay the remaining fee for construction. Please click here to donate today and help us finish paying for the Kijigari Well of Love.
Stay posted for a series of weekly installments to read about the fascinating and moving Kijigari borehole tale. I will
share with you the moments of exuberance experienced by the Kijigari community when they first witnessed water flowing in their village. I will tell you how we successfully raised thousands of
dollars thanks to our Heroes of Compassion and other dedicated supporters. You will learn how Denis and Moumine oversaw the borehole construction, and participated in electing the members of the Kijigari Water Management Committee. I will also give you an update on Tangarwashane, and how the borehole continues to change the community's life three years later. And finally, I will share with you our plans for the future and our vision for creating oases of life throughout the Azawak.
Sincerely yours for the children of the Azawak,
---
Contribute to Amman Imman! Contact us for more information at
info@ammanimman.org
!
Click here

to give your personal donation today.

Empower students by matching the amount raised by one of our Wells of Love Schools. Contact Debra Kahn,

debbie@ammanimman.org

, for more information.

Join our Heroes of Compassion by running for water in a marathon or race. Read about Mary's Run

here

.

Obtain the support of your community, coworkers, companies, family and/or friends.

Forward this message to a friend

and ask them to subscribe and contribute!

Host an Amman Imman fundraiser in your home or community.