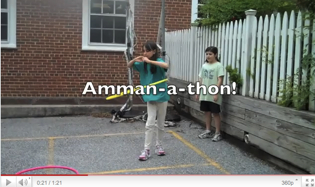 Take Action to Save Lives by Joining our Heroes of Compassion!
Become a Hero of Compassion! Rally your school to join the Amman Imman Crusade!
Match the money raised by a Wells of Love School. Challenge a school to raise funds and match your pledged donation.
Support Anya as she runs to save lives in memory of her father!
October 31, 2010: Anya runs for water in the Marine Corps Marathon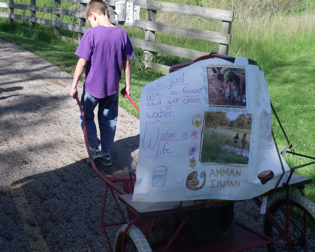 A student at Hershey Montessori walks for water, 2010.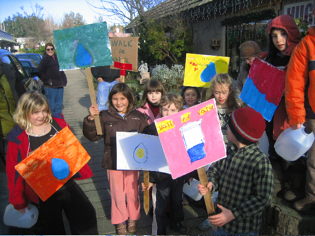 A Walk for Water, Salmonberry School, Orcas Island, 2007.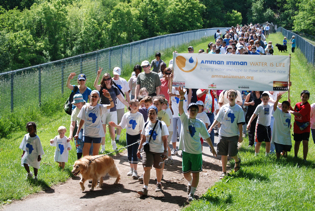 A Walk for Water, Lake Frank, Maryland, 2010.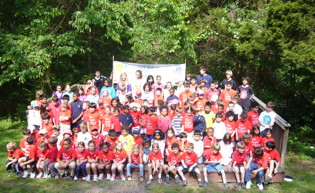 Boyd School students, A Walk for Water, 2010.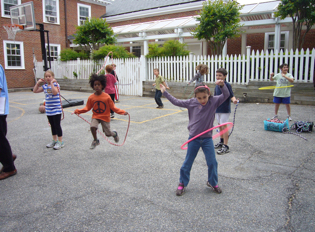 Students practice for their Amman-a-thon.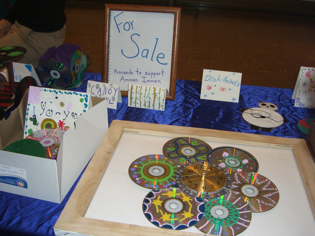 Crafts for sale, made by students, for their Well of Love.
Dear Friends of the Azawak,
In my last installment, I thanked our powerful Heroes of Compassion for their dedicated efforts toward building the Kijigari Well of Love. Today, I want to tell you how they accomplished this amazing humanitarian feat. I will describe our most successful annual fundraising events, which include our Walks for Water and Amman-a-thons, as well as other activities taken on by individual schools. And near the end, I will also share with you some inspiring stories from some of our youngest Heroes of Compassion.
A Walk for Water
This May, I had the honor and privilege of joining two A Walk for Water events for the first time since they began in 2007. The first I attended was organized by the Boyd school in Northern Virginia, where 100 students from all seven campuses came together in solidarity for the Azawak (in the meantime, 500 younger students were busy raising money through their Amman-a-thon event). I also took part in the 4th annual Lake Frank Walk, which united six schools and several local organizations all sharing one goal: to honor and help the children of the Azawak.
As I walked alongside students and parents, I realized how significant this simple symbolic gesture of hope was to the students as they empathized with their friends in Africa. While some students complained of the heat and humidity, others reminded them that the children in the Azawak walk over 30 miles a day in 120 degree heat. One small student proclaimed, "With every step we take here, we are one step closer to building our well of love." And one parent poetically compared her steps with flowers in Spring: "With every step we take, life is sprouting from our feet." It was riveting to witness the compassion and empowerment emanating from the students as they walked to help people that no one had even heard about five years ago. They knew that they were saving lives and bringing hope to friends they had not met, but for whom they felt deep love and understanding… people that had otherwise been forgotten by the world.
For those of you unfamiliar with A Walk for Water, it is a community-building sponsorship event, which has been held in such diverse locations as the city streets of Wellington, New Zealand, a school ball field in New Jersey, Orcas Island in Washington State, on a rural Ohio farm school, on a wooded path around a lake in Maryland, and in a park in Virginia. This walk is usually just a few miles, but it symbolizes the 30-miles that children in the Azawak travel every day in search for water. Students participating in the walk ask for sponsorships from friends, family, neighbors, and even local companies to raise money for building Wells of Love. Since 2007, we have raised over $50,000 from our annual Walks that take place across the world.
Amman-a-thons
Amman-a-thons are skill-building events that combine athleticism and philanthropy. Students are sponsored for each hoola hoop, basket ball dribble, jumping jack, jump rope, etc. that they do. Amman-a-thon events began at the Oneness-Family School in Maryland, where an average of 30 first- through third-graders, ages six to nine, have continued to participate each year. Schools across the nation have adopted these Amman-a-thons
including the Boyd School, Five Oaks Academy and Cornerspring Montessori. These events are particularly well adapted for our youngest Heroes of Compassion, as they can raise awareness and funds right on the school grounds while having a bundle of fun.
This May, I witnessed the six to nine year old students at the Oneness-Family School jump rope, hoola hoop, and dribble for their friends in the Azawak. They took their Amman-a-thon very seriously, and even dedicated many practice days to prepare. In past years, they had already astonished their sponsors by doing many more hoops and jumps than expected and they wanted to beat their past records this year. Amman-a-thons have raised over $17,000 since they began in 2008.
Other fun and creative awareness and fund raising events
Students at Yale University held a benefit concert and created a male beauty pageant, paralleling the traditional Guerwul festivals of the Fulani people of the Azawak. Other schools participated in A Month without Water, during which families contributed a month's amount of their water bill. Yet another school held a student-written one-act play festival fundraiser. Some Heroes of Compassion began a student-run soap making company, of which a portion of the profits went to Amman Imman. Several schools have created gala and auction fundraising events. Girl Scout troops have held bake sales. A few schools have raised money, and obtained matching grants from local Rotary Clubs. Still other Wells of Love schools have participated in our annual Hand in Hand campaign, where they have made crafts to sell to raise money.
Compassion Inspires Children of all Ages
As iterated by the Director of Salmonberry School, "Teachers and parents often underestimate children… when actually they are capable of such deep understanding and such wisdom and compassion." Upon learning about the plight of the children in the Azawak, one six year old echoed these thoughts, explaining to his parents that he needed to design a system of roads to better transport the diesel and materials for digging the boreholes. Another seven year old drew plans for a robot that could dig our boreholes without the need for expensive equipment! A five year old begged his dad for a very big box. When his dad finally inquired, "Why do you need this box?" he replied that he was going to pack up bottles of water to send to Niger and that they would need the box to return the empty bottles so that he could refill them and send more! Yet another five year old boy smiled for the first time in school after hearing the story of the Azawak, knowing he could make a difference. He went home and sold rosemary to his neighbors, raising over $100 in just one day for his newfound friends.
These combined efforts of each and every of our inspired and devoted Heroes of Compassion have resulted in a beautiful Well of Love in the village of Kijigari. Every single child's persistence and determination helped place each mud brick, faucet, and tube on our borehole infrastructure. Thank you, Heroes of Compassion, for being powerful and saving lives! Thank you for joining hand in hand with children and students across the world, and for continuously being my greatest source of inspiration!
Yours for the Children of the Azawak,
Ariane