Bonnie and the kids
Every year, students at Five Oaks Academy in Simpsonville, South Carolina turn their attention towards the remote Azawak of West Africa, and the people they've come to know through Amman Imman: Water is Life. Their involvement started several years ago when Andrew Kutt, director of the Oneness-Family School, told them about the growing coalition of Montessori schools who have come together to help bring water to this barren plain.
Teacher Bonnie Benthall was especially moved. Supported by Five Oaks director Kathleen Trewhella-Grant, Bonnie has taken Wells of Love to conferences, presented to heads of corporations, and rallied the entire school. Her students have made speeches to other classes, at their churches and in their community. In addition to creative fundraisers held throughout the year, students age two through 12 use their athletic skills during the annual Amman-a-thon. Amman Imman has become an official charity for the South Carolina Montessori Alliance. Several South Carolina Montessori schools participate in the Wells of Love program with yearly fundraisers. Thanks to Bonnie's contagious enthusiasm, kids across South Carolina are awakening to understand their world and connecting to their brothers and sister in West Africa.
I send my heartfelt appreciation to Bonnie, Kathleen, all the Five Oaks teachers, parents, and especially our student Heroes of Compassion!
Read about how Five Oaks students raised over $6,100 this year to support Amman Imman's projects in the Azawak. Here's the article copied from the Five Oaks Academy website:
Students Raise Funds For Amman Imman: Water Is Life
Five Oaks Academy toddlers, primary kindergartners, lower elementary students, upper elementary students and middle school students recently participated in a fundraising drive to support the organization Amman Imman: Water is Life. Amman Imman is dedicated to improving and saving lives among the poorest and most abandoned populations of the world by supplying permanent sources of water in the Azawak of West Africa.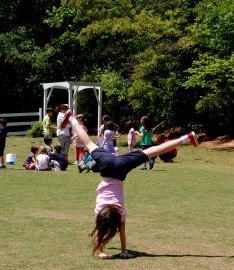 The annual fundraising drive, named Ammon-a-thon, gives students the opportunity to raise money by getting sponsors to pledge support for completing repetitions of some of their favorite outdoor activities including running laps, doing jumping jacks, throwing and bouncing balls and other physical activities. These activities provide students the opportunity to showcase their determination and support of this wonderful cause. Overall, the students jumped, bounced and sweat their way to raise over $5,000. Combined with other fundraisers done over the course of the year in support of Amman Imman, the students raised over $6,100.
Amman Imman's global objective is to increase water security for the children and adults living in the Azawak of West Africa in order to drastically reduce the incidence and prevalence of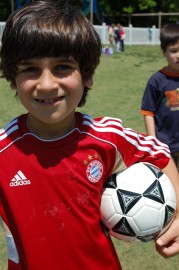 morbidity and mortality related to water insufficiency and poor water quality, such as dehydration, diarrhea, intestinal helminthes, skin diseases, lice infestation, schistosomiosis, trachoma, etc. The project's objectives include;
creating permanent, sustainable, and potable water sources, so that everyone within the target population has sustainable and equitable access to enough water quantity of high quality to meet their consumption, cooking, personal and domestic hygienic needs, as well as the needs of their animals,
ensuring ecologically, financially, and socially sustainable management of water quality and quantity and
improving hygiene and sanitation related knowledge and behavior among members of the target population.
Events such as the Amman-a-thon empower Five Oaks Academy students to be actively involved in helping others and engages them as global citizens. Five Oaks Academy is proud of all of its students who participated in Amman-a-thon.